Cordaware bestinformed® 6
We are very pleased to announce our release of Cordaware bestinformed® Version 6 today, but it is not just a release of a new version it is a new era for information logistics. Breath-taking opportunities and new possibilities of proactive (end user) communication. Be a part of this new dimension of communication – right form the start!
Version 6 reaches a new level of innovation and precision.
We fulfilled the needs of your daily work: According to your requests new features were implemented, functions coordinated even more and technologies integrated which were invented especially for instant company-wide notification and proactive (end user) communication for example for Service Desks.
New in Cordaware bestinformed® 6

Cluster readiness

Grid readiness

Offline operation

IoT connectivity

Customized client

Bidirectional web administration

Live statistics monitoring

Live LDAP access

New multiuser concept

Guardian

Advanced addressing options

Authentication via LDAP attributes

Compliance surveys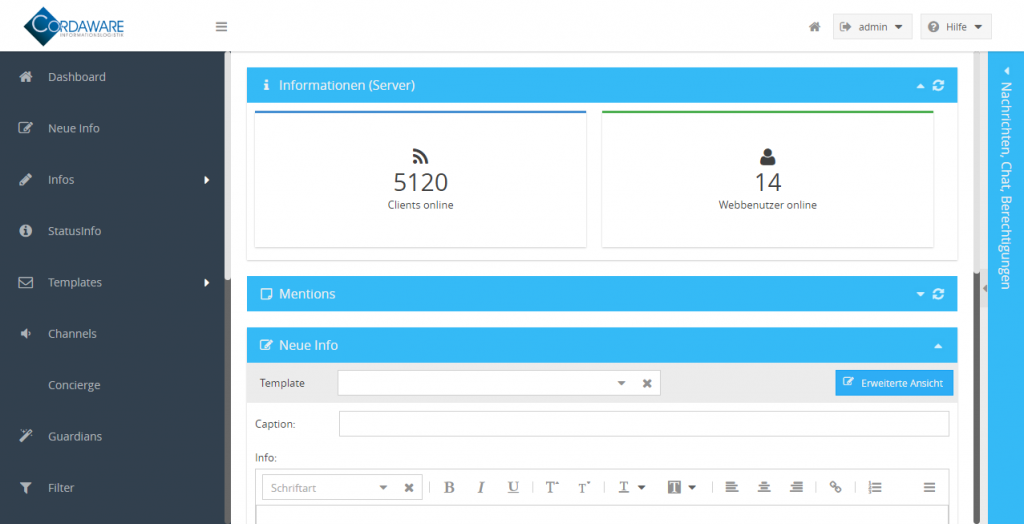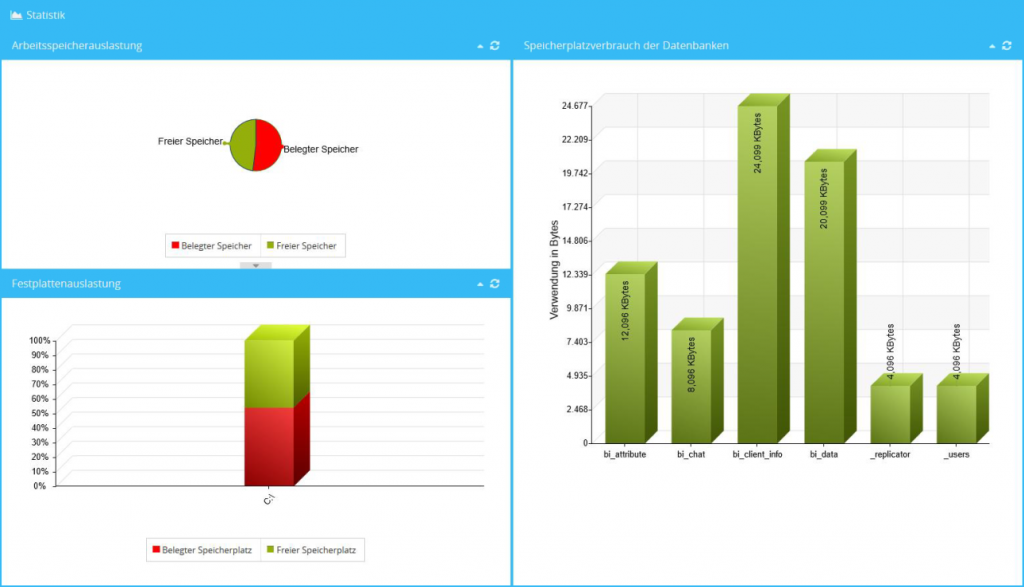 Try Cordaware bestinformed® Version 6 with our current evaluation installation.

Scalability and Cluster readiness
The new architectural structure of Cordaware bestinformed offers a range of flexible opportunities for setting up high availability and furthermore providing failover functionality. With this architectural background it is possible to construct a cluster of several servers (at least two). An advantage of combining servers to a cluster is the established construct acting like a single computer system for every connected client. Therefore a high available system can be ensured for environments with up to very large installations.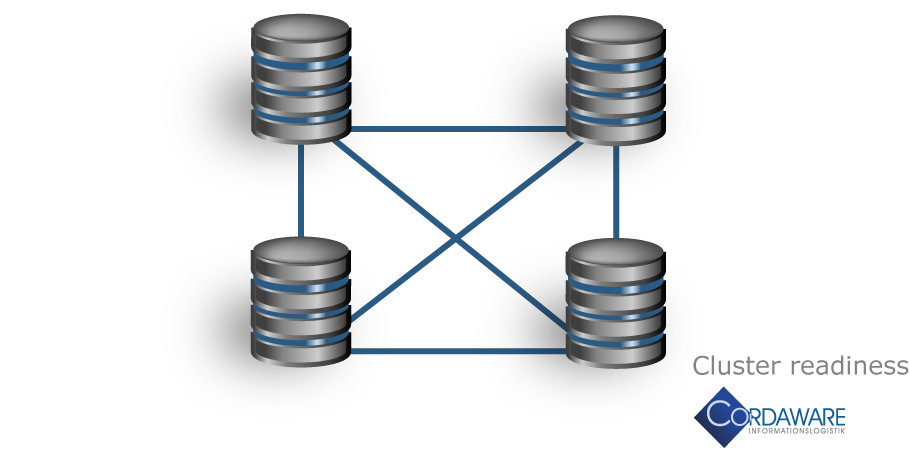 Grid architecture for servers located globally
For companies with multiple locations it is also possible to create a redundant server grid with live replicated nodes to ensure a synchronization of the regional locations/systems.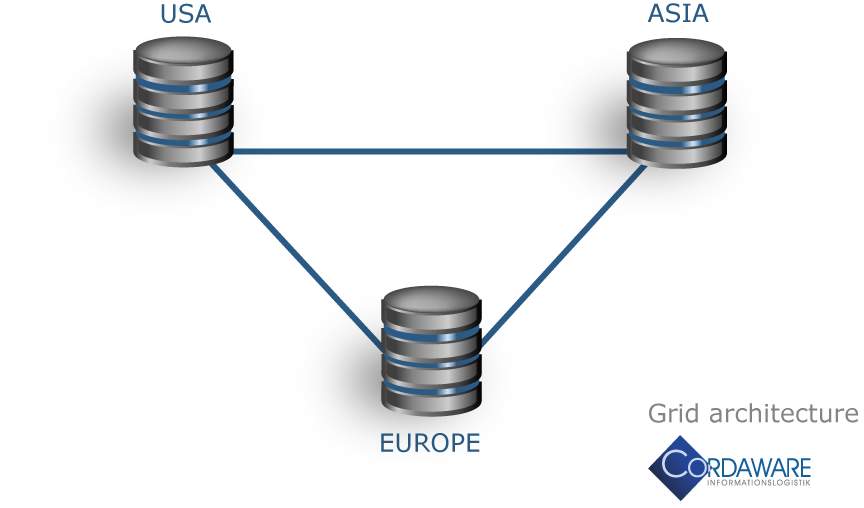 Offline availability / continuity
Our various server grid options provide many benefits for companies with several spread sites. If, for example, the connection between two locations A and B is down, Infoserver from location A is still running in "offline-mode" as a single "island". Herewith locally notifications and alerts can still be sent out. As soon as the servers reconnect all data will be synchronized among all nodes automatically.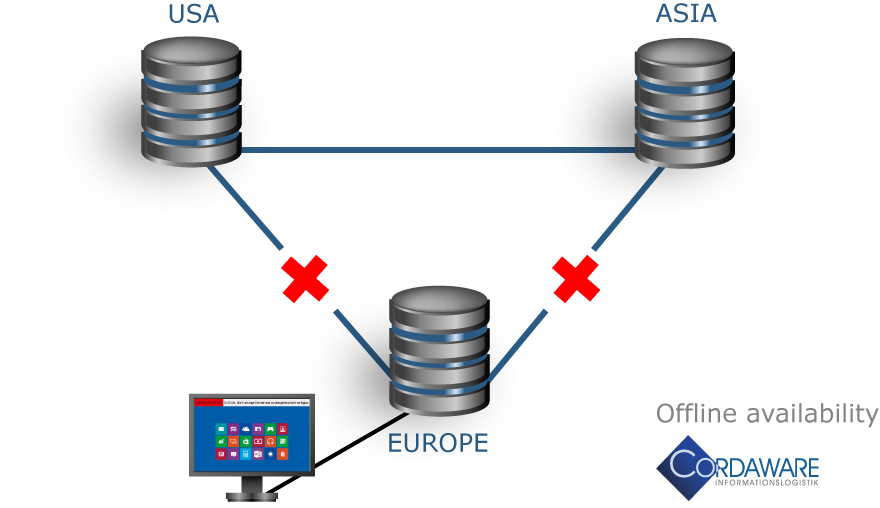 IoT connectivity / Customized Client
Accordingly to the challenges of the future, speaking of topics like Internet of Things, Cordaware bestinformed® Version 6 offers different interfaces for connecting to several devices.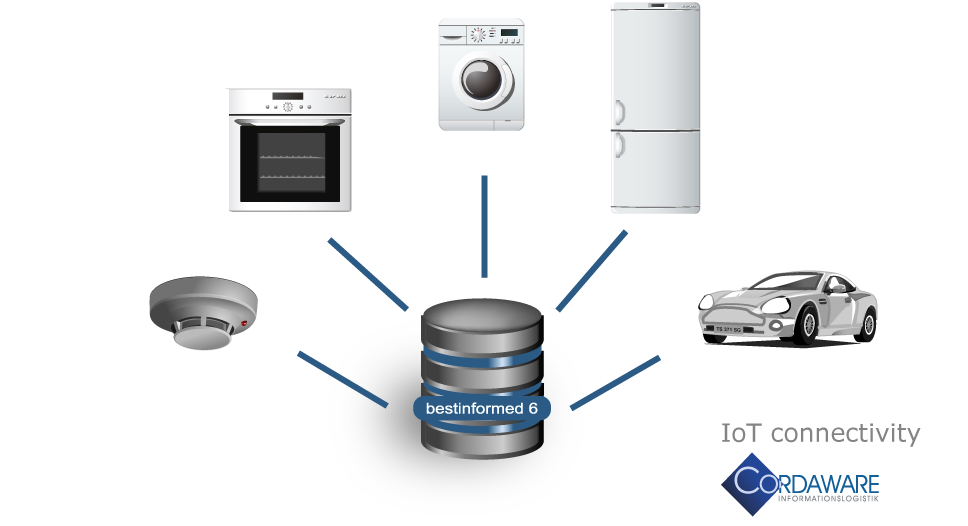 Flexible mobile client connections
Beside a new native mobile app for Android and IOS devices, Cordaware bestinformed Version 6 offers the possibility to connect to common messengers like Telegram Chat and supply them with messages. Just as regular chats the resulting conversations are bidirectional. Therefore the recipient user can also answer and give their own feedback to incoming news. For example, this can be used to provide a Chat Support Service for Service Desks.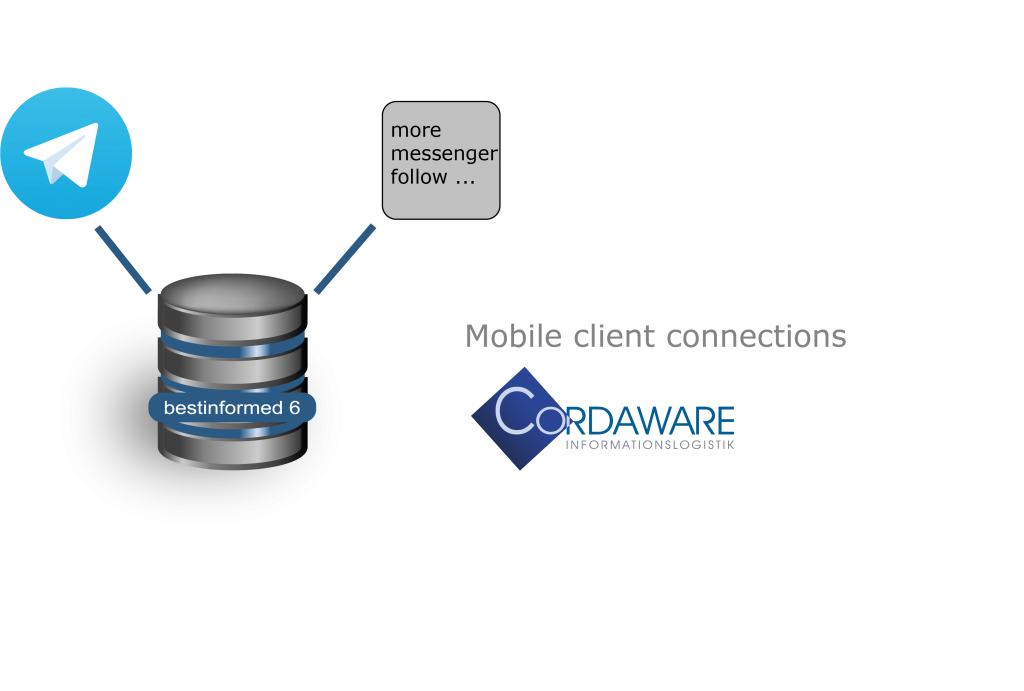 Bidirectional web administration
Our new bidirectional administration website is made to be highly topical and dynamic. Any modification of an item in the field of LDAP/domains or the several client connections like regular desktop client, messenger connections or mobile clients are pushed instantly to the website. These aspects in combination with a large number of innovations and new functions (for example sorting and searching datasets) provide an overall improved user experience. Furthermore the website is now compatible with all conventional browsers.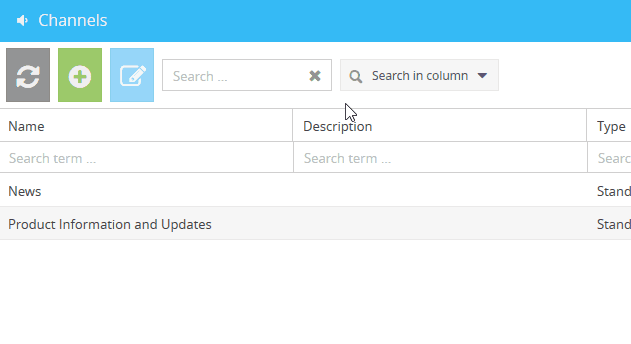 Example: If a user is running an open browser session, he'll be notified if new data is available by changing refresh button's color.

Live statistics monitoring
All important data like memory usage, status quo of the servers and number of connected clients can be monitored at any time in a well-arranged statistic dashboard.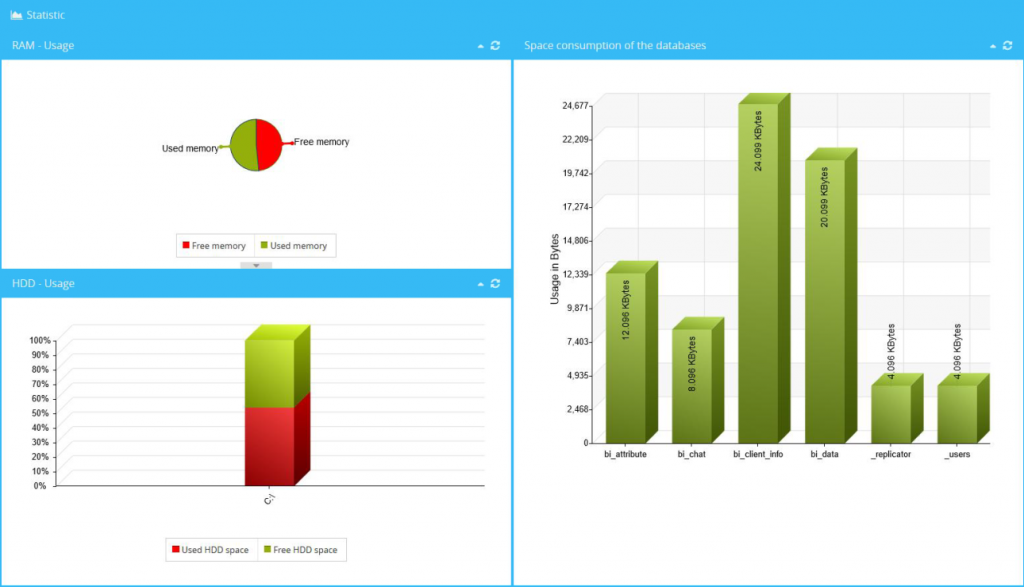 Live access to LDAP directory services
In Version 5 it was already possible to connect to the Active Directory (or any other LDAP-based directory service) in order to synchronize the existing structure/groups and send them messages. 
In Version 6 this function has been enhanced. Changed data will be updated from the Infoserver ongoing, so if a message is sent out, the current version of the LDAP directory will be used.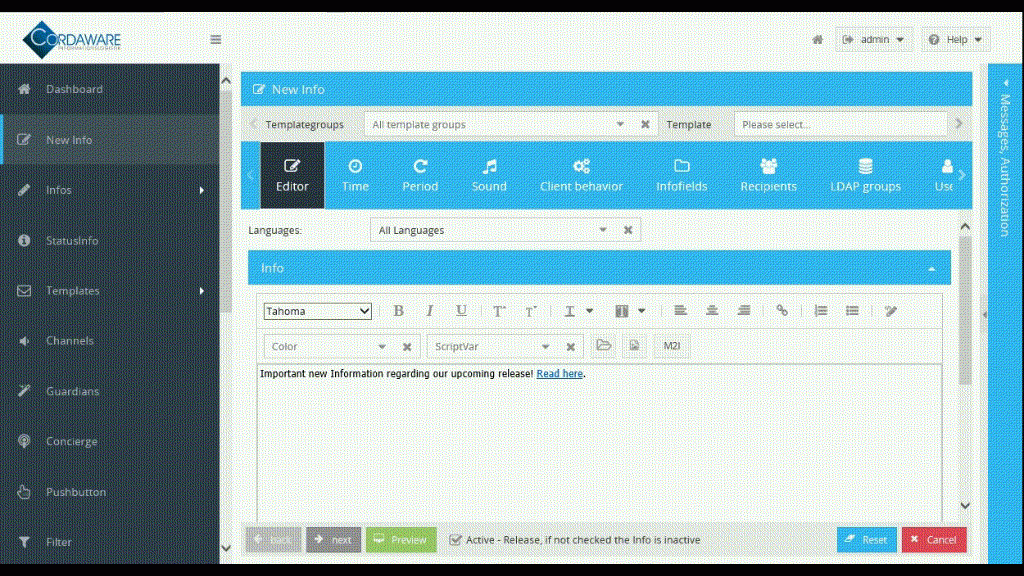 For example, this feature allows you to simply select LDAP groups during info creation to quickly message already existing groups from your directory service.

New multiuser concept
A completely revised and updated concept for our multiuser mode enables a smart, flexible and easy to use arrangement of authorizations and resources. Roles and Profiles build the basic structure for a simplified creation of the right structure according to your requirements.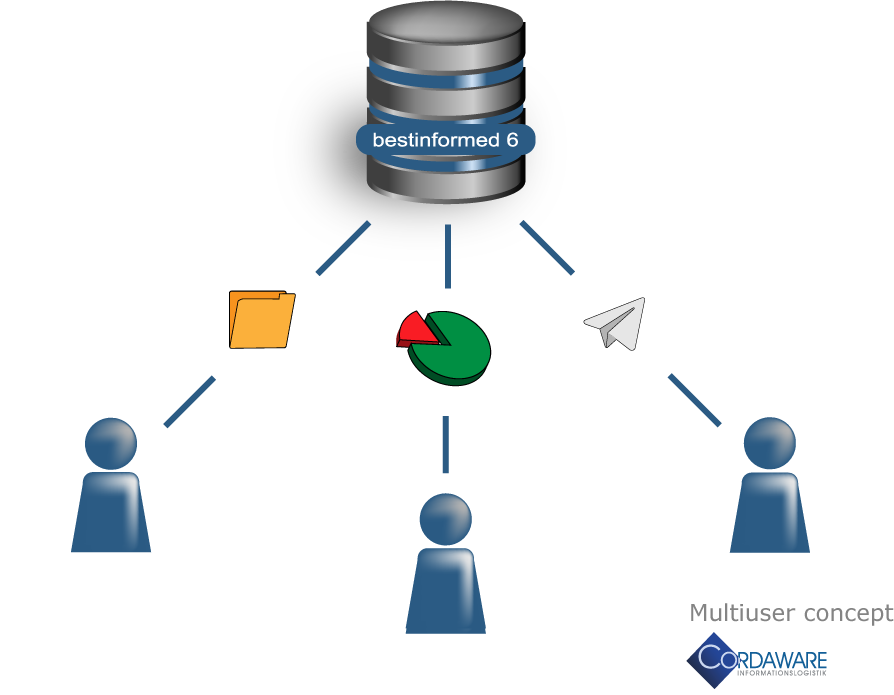 Using already existing LDAP attributes
Furthermore in Version 6 it is possible to use already existing LDAP attributes for authentication purposes, like a telephone number from the Active Directory. In many cases this method enables a simple transfer of existing structures for authentication and administrative privileges without a higher administrational effort.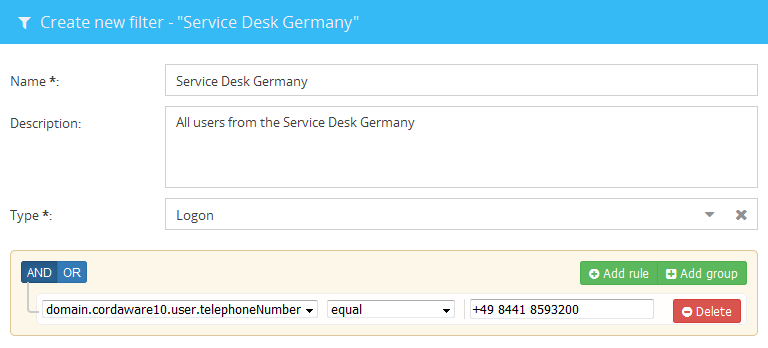 Guardian
The app "Guardian" offers powerful new functions in the field of dynamic addressing. Until now with dynamic Channels it was only possible to notify users, who for example are using a specific application when the notification was delivered. With the app "Guardian" in Version 6 it is possible to stop, quit or prohibit the start of an application.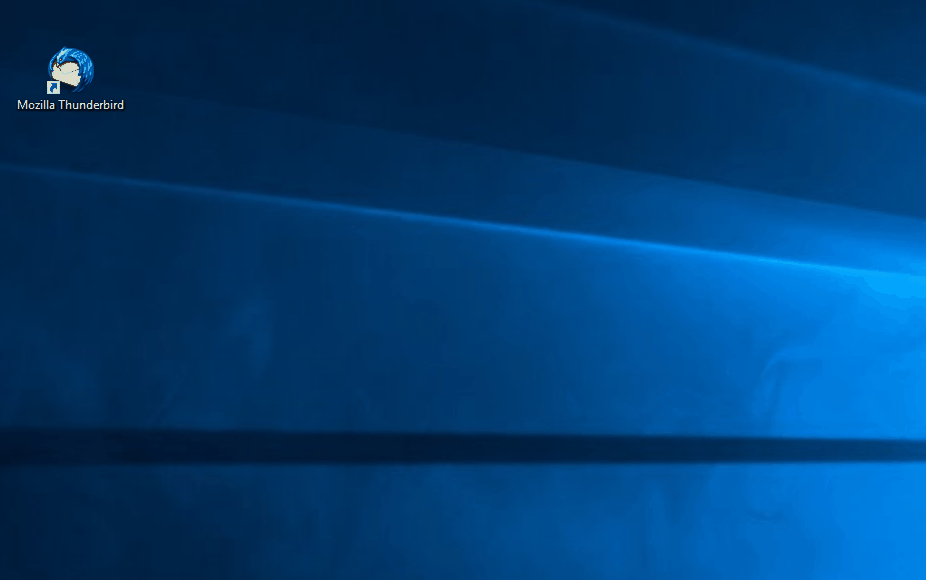 Advanced options for addressing Infoclients
Additionally to groups from LDAP and Channels, Version 6 provides the chance to determine recipients via Filters. Filters summarize clients based on their attributes. Infoclients pass their attributes automatically when they connect to the Infoserver. The opportunity to construct Filters increases the flexibility to build and isolate addressed audience obviously.

TED enhancement: IT-Compliance
The new Cordaware TED extension includes some special functions for a software based realization of IT compliance processes. 

Therefore process-related check lists, queries plus corresponding notifications and reminder mechanisms are only set once, but will be initiated for a freely selectable period and excuted routinely afterwards.