Cordaware bestinformed® is the leading desktop mass notification system used for companywide distribution of urgent information. Messages are instantly distributed according to specified groups. The messages then immediately appear on the recipient's desktops as a dynamic news-ticker.
Welcome to Cordaware bestinformed! +++ Welcome to Cordaware bestinformed! +++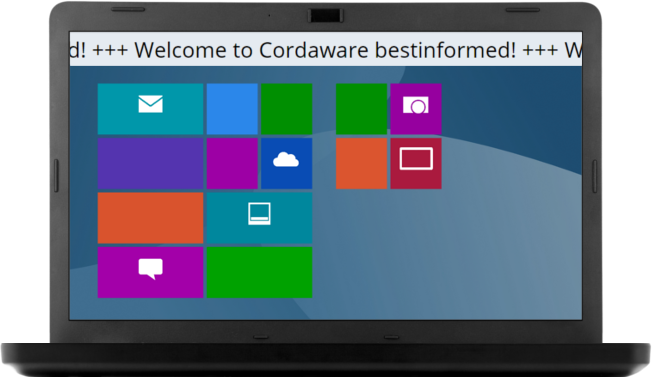 What may at first sound quite simple, is in fact a real-time communications platform that evolved over several years. It is used by numerous renowned companies to ensure the highest level of information security. We have listened to our customers demands to meet the need of challenging mass notification and individual real time communication.
Cordaware bestinformed® 6 is revolutionizing the market of information logistics due to being the fastest, smartest and most powerful realtime communication platform of all time.
Fast, targeted, powerful, scalable!
It doesn't matter if you want to inform 10 or 1.000.000 users. Cordaware bestinformed® adjusts perfectly according to your needs. And the best: Cordaware bestinformed® Starter App is already available for 10 cent per client per month.
Companywide information management
Proactive User communication from the User Service Desk
Remote maintenance of computer systems
Mass notification in case of alert and evacuation
Surveying customers and employees
Providing information on large public screens
Try this powerful system yourself!
Try Cordaware bestinformed® for free!